Please note:
All players are expected to play within the following rules set out below. We will enforce a strict code of conduct within our community and act on behaviour that breaks it.
Whilst our goal is to build a roleplaying experience that is free from constraints, we realize that we have a duty to protect all members of the VRP community.
We strive to create an environment; and by extension a community that promotes a welcoming atmosphere to all members; a community that its members can be proud to say they are a part of.
VRP holds a strong stance against any derogatory terms or actions against its members.
We will enforce a strict code of conduct within our community and act on items that are distasteful, for example: sexual harassment, excessive name calling or shaming, disrespectful attacks on a personal level, etc.
At the end of the day, we are all here to enjoy this world that we all play within. We are here to create a world with amazing and fun experiences.
Simply put; respect one another, have justification and reasoning for your actions. Simply saying "it is the way my character is" will not be considered a valid response.
Staff are always here to help with any matters or issues that arise no matter how big or small.
You can only have one active character at a time - the creation of a new character requires another application and the rendering of your previous character lost, killed, exiled, etc
Your in-game name needs to be two words (first and last name)
You cannot use modern / meme / god names / titles
Must be unique and not the same as anyone else
Your name must fit in-game, 15 character max including spaces
You must use your character name OR alias as your discord nickname and mumble name(no spaces)
Sally Sue, Ragnar Odinson, Jeof Asmer, Bianca Oak
DankMemes, Bill Gates, Sally the savage, King, Odin, Scarlett Johansson
Whilst in-game, pressing F2 will bring up various metrics and UI - please note, this is META information, your character can not interpret this information.
Within the F2 menu, you can find 'Instances' - this is the primary metric used when building.
you must keep your builds below 11k instances max
it is recommended 10k instances or less

You may not terraform for your build
This means no mountains, no making your own rivers, no moats, no flattening a whole hill for a city.

You may own a total of [1] ward. You can be on an unlimited number of other people's wards

You may have 1 house or base and 1 outpost.
A base can be multiple buildings in an area but the entire area must stay below the instance cap
An outpost is a small or temporary structure built to support a person or group far from home.

If you move you must destroy your old building.
If the building belongs to a town or group, the property does not need to be destroyed it is the responsibility of the group

Wards should cover your chests with items to keep them safe.

Farmers must cultivate responsibly and not create cultivated land inside towns or near multiple people. Cultivated ground is a type of terraforming and the cultivator has limited durability. Keep this in mind when deciding the size of your farm.

If your intended build is within max render distance of others you should get their permission first.
1 person doesn't build an area alone instantly.
Your area starts small then gets improved gradually as roleplay dictates.
Building a large public area needs to be supported by other players. Many people may live in one place, but if one person is building it all or building it instantly, it is not acceptable.
Remember building far away means many will not take the time to visit you, you'll get bored and have no RP.
Example1: Trade between bob's house and fred's house happens very often. They decide to team up and build a town together.
Example2: Many people frequent their town via boat so they build a dock.
Example3: They make enemies with bandits so decide to construct a wall.
Example4: Trade prospers with another town so they build things along the trade route.
| Good | | Bad |
| --- | --- | --- |
| Take the time to plan what you want to build and have it reflect the roleplay circumstances. | | Creating an entire town overnight, you'll recruit later once it's done. |
| Spending several days staging materials In Character. Creating wood piles, making temporary housing and store houses. | | Clear cutting all the trees in the area so you can get the house done today. You'll roleplay tomorrow. |
| Using a foundation to build in a natural level spot without disrupting the land. | | Using the pickaxe to make the ground fit the house you already started to build |
| Adding visual supports to make the house look realistic even if it'd stand up otherwise | | Defy all physics! I can use a tree to make my rock house float out above the water. |
| Over time the needs of my character have changed so I've altered or added to my building to reflect this. | | I created a massive town build thinking I'd recruit people to join me but since nobody wants to I live alone in my mansion. |
| I'm still very new to building so I hired someone else to help me. We work together to realize my dream house and I learn a few things. | | I built a giant stone box. I struggle to fill it and it's an eyesore but it's mine. |
Every block, item and deformation to the terrain impacts the instance count. Typically, the more work done to an area, the higher the instances get.
When making large builds, especially towns, make sure that they are a significant distance away from others. Each town should at the very least be outside one-anothers 'sight-range', plus some distance - so that players within a town are not also having to load in other instances as well.
The best scenario would be that players would only ever have 1 'large build' within sight-range at any given moment, so as to improve performance and allow everyone to enjoy space, as well as allow adequate room for sprawl and expansion.
In the below example I show how even though these 3 towns are not within the same 'zone', a person walking in-between them would still load all 3 at once, and therefore performance would suffer.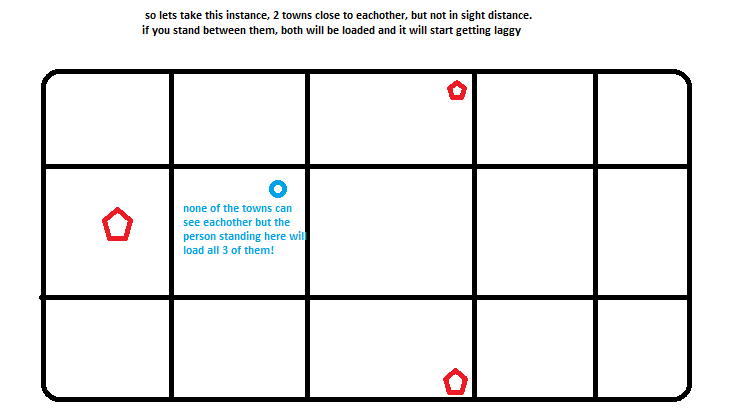 Ideally, you need your towns to be twice the 'sight range' from eachother, as shown below: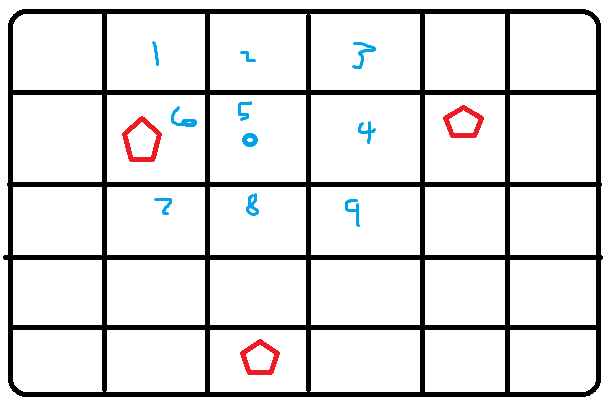 The above picture is the ideal scenario! If you are planning on building in a location, however can already see large builds nearby - please re-consider!
You are permitted a maximum of (1) ward. The ward will deactivate after 7 days if not replaced or fed.
You may not ward to claim resources (e.g. crypts, burial chambers, colored mushrooms, copper deposits) without IC reason and admin preapproval.
A building or settlement attached to or near an active ward will always need to be respected under our Raid/Robbery Rules.
If a building/settlement has a ward that has gone dormant (inactive) it may be robbed as if the owner was present, following the Raid/Robbery Rules
Any building or settlement that has ever been warded, even if dead, needs to be ticketed and approved by admins before it is destroyed or altered.
Be considerate of others and do not steal or destroy things that other active members of the community are enjoying.
Make choices that enhance roleplay and come from a storytelling perspective not one of personal gains and opportunistic advancement.
You may break an inactive ward to reclaim a building
You may NOT add yourself to the ward and use it as your own
Public locations are admin designated neutral zones. No pvp, No building, No terraforming. The location is managed by the admin's please don't mess them up.
This includes: Spawn area, All boss altars, if you are unsure, please ask first!
You are not allowed to take items or modify builds in the areas created by admins without direct permission in a ticket or from a god/spirit character.
Player-made builds that are open to the public are not considered neutral territory.
Tamed created should be done with a roleplaying reason / story. You don't just get tamed creatures because it is convenient or you feel like it.
Only cooks and farmers are allowed to tame.
Limited to a max of 10 tamed creatures (of any combination of species).
Non-Cooks and Farmers must have a justified roleplay reason and permission to keep them.
Only those with a roleplay reason are allowed to keep tame wolves.
Limited to a max of 2 tamed and 1 following is allowed.
May not keep a companion larger than 4*.
example 1: Fred is a farmer, he has 10 boars on his farm he slaughters for meat
example 2: Sandra is a mountain woman who befriended a wolf when it had a broken leg. The wolf is now her companion wherever she goes.