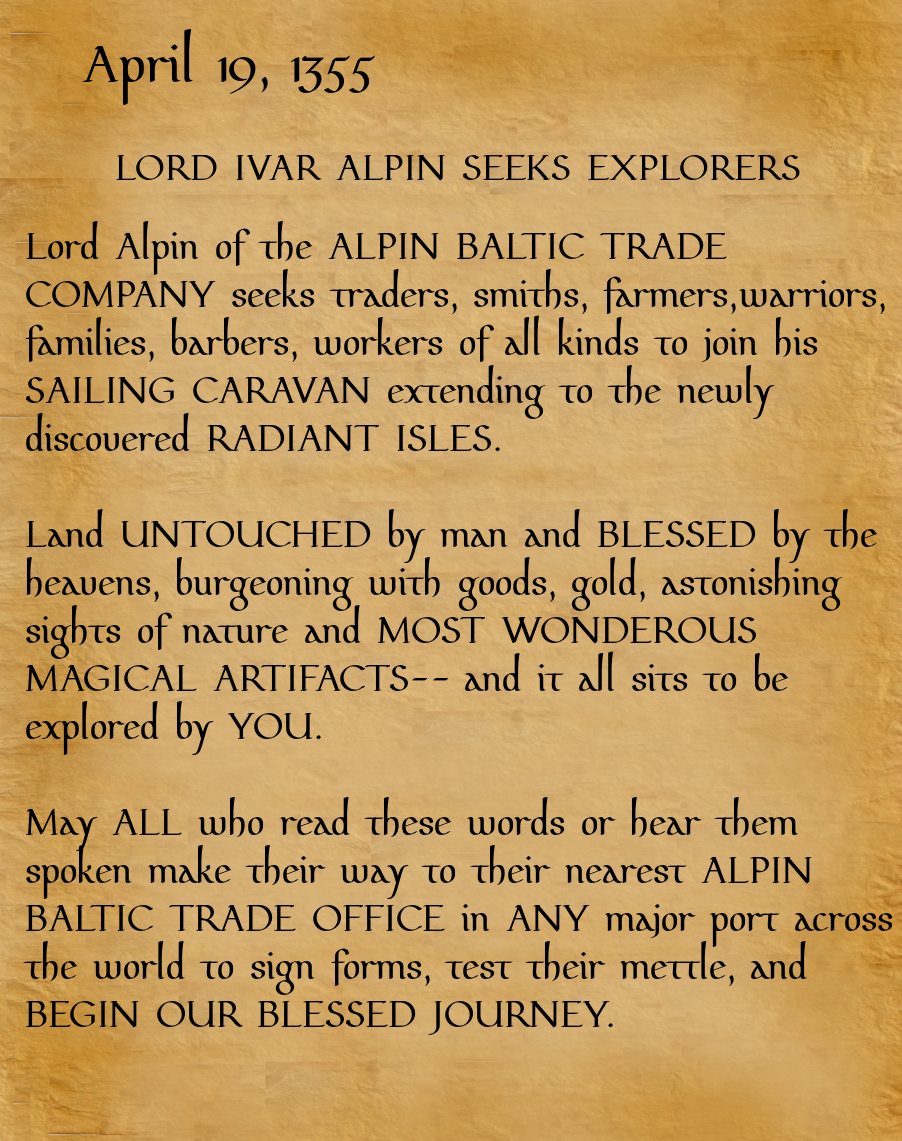 ---
A single ship in the Alpin merchant fleet returned early from its planned voyage in the spring of 1355, nearly broken in half by swells and storms. On board were some of the most precious, priceless artifacts ever uncovered by man.
Mushrooms that glowed with natural light and healed the sick, casks of water that seemed to give to its drinkers strength beyond that of any mortal. Mysteries upon mysteries. The explorers spoke of an archipelago of wonders so unfathomable that words could do them no justice-- the whole series of islands covered in what many called magic. Not a living human soul was found on these new lands. They were prime for settlement, for development, for capture.
Most importantly, however, this crew carried with them something even more valuable: the map to its location.
Of course, it didn't take long for this information to crawl around the world. Port to port, country to country. The strange artifacts were bought, sold, sliced, broken down, and shipped to every king and queen, duke and degenerate, merchant, apothecary and collector of wonders who could get their hands on them.
This was a land race the likes of which had never been seen. Some of its hopeful Explorers were volunteers hopeful for riches and land, some drafted by the powerful, some forced to sail against their will. Independents and families alike. There was money to be made, lands to discover, and for many their greed outweighed their senses. This was to be a most perilous journey.
Yet they sailed: The Radiant Isles were waiting. The prize, for those who did survive, who did make it, who did set their feet upon this new world-- they would make history. Even if there was no fountain of youth, this could make you immortal. A legend. Blessed by magic, by wonder.
This is the story of the explorers sent to a place that came to be called The Radiant Isles.



You are an explorer. Word of the Alpin Baltic Trade Company's expedition has traveled far and wide. You have come by boat to a new world through a very rigorous voyage many have not survived. You have heard the rumors, of riches and mysteries, in a deeply unfamiliar territory that begs for your homestead. Either by your own choice or through force by another party- or some other means- you were sailed towards the Radiant Isles.




Perhaps you paid to be sailed-- perhaps you stole a map and sailed yourself. You will, if fate allows it, arrive on its shores in one piece, along with a caravan of others that will extend from all countries and continents for months, years

Must be a living mortal human from somewhere on earth in the year 1355.
You must not be related to or be a member of the Alpin Baltic Trade Company.
You must not be related to or have a relationship with Lord Ivar Alpin
No magics,* powers, vampirism, or were-anything etc. just human.
Must not have any direct relation to any gods, supernatural beings, or any attendants thereof.

*If you choose magic as your specialty it is something discovered on the island. Your backstory may not include magic.

Where are you from?
How did your character hear about The Radiant Isles?
Is your character running from something?
How did you secure your passage here? Did you pay for passage, steal a map, get conscripted as a sailor or something else?
Why do you want to go?
What are your characters' flaws?

---

---

"On the Shore" Kevin MacLeod (incompetech.com)
Licensed under Creative Commons: By Attribution 4.0 License
http://creativecommons.org/licenses/by/4.0/